When does a Debt Service Coverage Ratio (DSCR) loan make sense?
Borrower doesn't pass the standard DTI calculation
Borrower doesn't want to produce tax returns
Borrower doesn't want to use their own income
Borrower owns more properties than Agency programs allow
DSCR Program Overview.
Loan size: $100,000 to $2,000,000
Purpose: Purchase, Refinance, Cash Outs
Loan term: 30-Year Fixed
Amortization: up to 30 years
LTV: up to 80%
FICO: 660
DSCR: 0.75x
Documentation: No tax returns required
Broker Compensation: up to 5 points
Get in touch with one of our experts now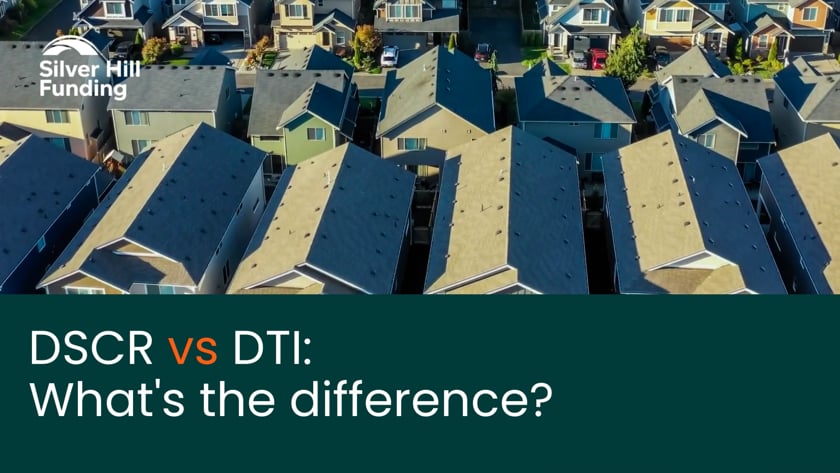 Alternative
Underwriting

Instead of the standard Debt-to-Income (DTI) test, we perform a DSCR-based underwrite and qualify income based on the property's cash flows.
No Lender
Points

No lender points means you have the freedom to charge fees your way and earn up to 5 points on a 1-4-unit deal.
Educational
Resources

As a Silver Hill partner, you get access to unlimited tools designed to help you grow your commercial business.
Portfolio loans are now available!
Get your clients the simplification and scale they need with options to consolidate or restructure payments in a way that best serves their business.
Min of 3 SFR/2-4-unit properties and $500,000 loan amount
Max of 25 properties may be combined into 1 loan
Min unit value: $100,000
Max loan size: $6,250,000 total
Min loan size: $500,000 total
Max LTV: Purchase – 80% / Refi – 75%
Wider range of
eligible property
types available for
your clients.
1-4-unit attached/detached
Short-term rentals (Airbnb)
Warrantable and non-warrantable condos
PUDs
Be our next
success story.
Thanks to our DSCR solution, this broker was able to help their client secure a large single family home as a long-term investment property without providing tax return documentation.
Read the Story
Want to discuss a deal?
Let's talk.
Closing commercial mortgage deals can be a simple and stress-free process – but only if
you have the right partner on your side. See how we can be that partner for you.